When cutting wood using bandsaw blades, a major misconception is that the blade is safe from breakage or instant wear and tear. This misconception stems from the fact that wood is softer than metal and all bandsaw blades used for cutting metal can also be used for cutting wood.
Making the correct choice the first time is essential for saving you time and money. Manufactured using durable carbon flex-back material and extensive heat treatment, blades at Sawblade.com.au are designed to meet all your requirements.
Woodworking Made Easy
Cutting wood requires performing various tasks with varying precision levels. The following points should be considered when selecting a bandsaw blade for cutting wood.
Firstly, the length of the blade should depend upon the bandsaw machine you are using. Usually, the label on the machine specifies the length of the blade it can accommodate. Secondly, you need to choose the width of your blade. If you are a beginner woodworker, go for the widest possible blade as they can withstand extreme feed rates without flexing or breaking.
However, there is a correct blade width for every specific task. Refer to the image below to get a baseline of different curves these blades can potentially cut.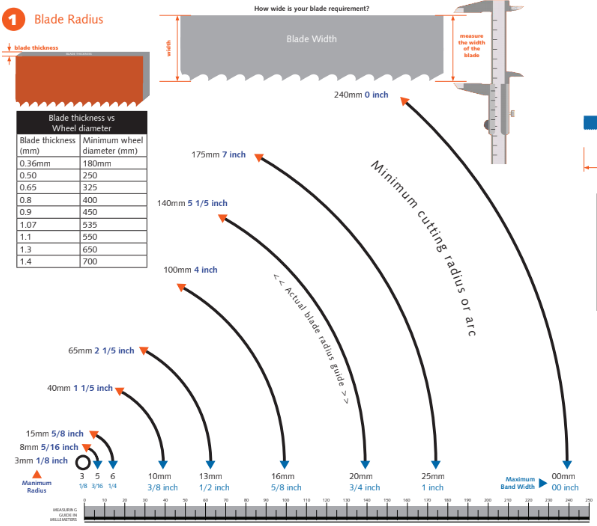 A blade that is being used for cutting bowls will not be ideal for cutting curves. Consequently, cutting curves disturbs the teeth of the blade rendering it incapable of performing straight cuts. So the best advice we can give you is to keep a separate blade for every application. Also, blade dimensions may vary depending on the actual thickness of the wood.
Designed To Perform Perfect Cuts
Sawblade.com.au blades are manufactured using steel made in Germany and band welded in Australia. Our blades also include a safety protection strip on the tooth edge of the blade.
Our flagship Flexback Carbon Bandsaw blade is manufactured from an exclusively developed high carbon steel strip with unique characteristics and metallurgical properties. The steel enables superior cutting performance, improved fatigue resistance and tougher, harder teeth.
Full Range Of Wood Cutting Bandsaw Blades for sale
An entire range of bandsaw blades are available to choose from at Sawblade.com.au. Our blades come in a range of width starting from 6mm to over 30mm. Sawblade.com.au also manufactures blades with TPI(teeth per inch) up to 18tpi.
Get in touch with us and we would be delighted to help you select the best bandsaw for your application.