Bandsaw Blades Selection And Use For Metal Cutting
The correct bandsaw blade selection for metal cutting is essential for increasing blade life and getting the highest quality cut. Sawblade.com.au is the market leader in manufacturing bandsaw blades for metal cutting in Australia. We manufacture bandsaw blades in various widths, thicknesses, tooth density design, and materials.
Visit Sawblade.com.au to purchase from our great selection of Bandsaw blades, or keep reading to learn about how to make the right selection of blade for your application. We will also discuss the various TPI density bandsaw blades on offer and the consequences of selecting a wrong blade.
Selecting Bandsaw Blades
Bandsaw Blades Width
Width of the Bandsaw blade must be decided depending on the maximum capacity you are planning to accommodate and the minimum diameter you want to cut. The below chart gives a baseline of different curves these widths of blades can potentially cut.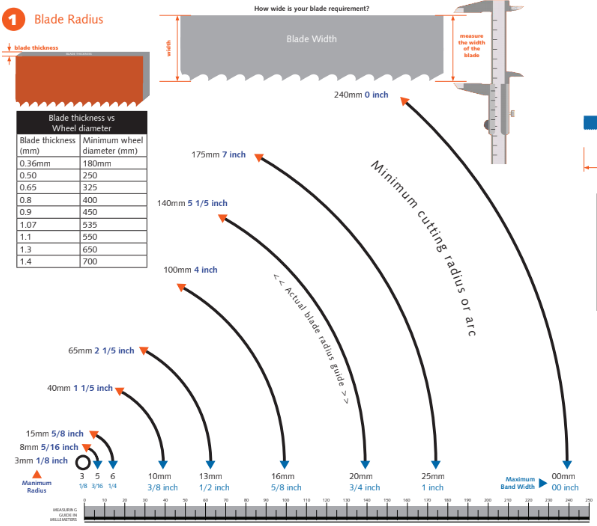 If your application involves use of scroll saw, you will need to use a thinner blade. A blade with a thinner width will provide more flexibility and are ideal for creating curves. On the other hand, wider bandsaw blades are more suited for re-sawing and can cut a lot faster.
When applied heavy pressure on the blade, the wider blades are less likely to collapse or bend. This factor comes into play when re-sawing. Thick bandsaw blades can withstand the heavy cutting strain, but can also break as a result of bending and twisting of the blade. However, thinner bandsaw blades perform better for lighter work. Thin bandsaw blades are perfect for creating intricate cuts and contours.
Tooth Pattern 
Finding a balance between feed rate and cut finish is most important when determining teeth per inch(TPI) for your bandsaw blade. The more teeth per inch, the smoother and finer the cut. And blades with fewer teeth per inch, are faster with a rougher cut.
Another rule of thumb to follow is that at least 3-6 teeth should be involved in the cut at all times. This leads to accuracy and stability and applies to both metal and wood. If the correct TPI is not chosen, the blade life will be dramatically shortened.
Sawblade.com.au manufactures bandsaw blades in lots of different styles, shapes, widths, and materials that you can choose from. The price of the blade depends only on the length of the blade purchased and not on TPI. So visit Sawblade.com.au and we will help you find the bandsaw blade according to your requirements.